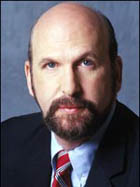 Photo by Tess Steinkolk

email: Neil V. Getnick

Neil V. Getnick is the managing partner of Getnick & Getnick LLP. He has led the development of the law firm's dedicated anti-fraud litigation and business integrity practice. He has coordinated numerous groundbreaking civil RICO, Federal False Claims Act qui tam and other civil prosecution investigations and litigations, as well as corporate monitoring and Independent Private Sector Inspector General (IPSIG) projects.

His civil RICO litigations have included the first certified civil RICO class action, as well as the "Alliance" case heralded by Forbes for its "get-tough attitude" on an insurance fraud ring of corrupt lawyers, and the celebrated Tandem Computers mainframe computer parts theft case, described by The New York Times as a "real life 'Mission Impossible' in the heart of silicon valley." Every civil RICO case filed by Mr. Getnick and his law firm since the firm's founding in 1983 has resulted in parallel criminal convictions of the principal named defendants, in addition to the securing of civil judgments.